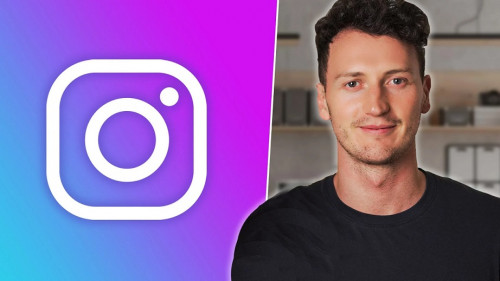 SkillShare – Instagram Marketing 2021 Complete Guide to Instagram Growth & Engagement
English | Size: 2.23 GB
Category: Tutorial
Most people use Instagram in the wrong way and never gain any traction for their brand. If you don't know what you are doing Instagram becomes a full time job.
In today's age you need to know how to make Instagram work for you. Sharing your creativity, life and work on Instagram should be exciting. Knowing the right strategies to grow your followers and cultivate a strong brand is the perfect start.
By leveraging Instagram in the right ways, you can reach new audiences, grow your following, and achieve deep engagement for your brand.
Instagram is an incredible opportunity to turn your hobby, art, or small brand from a side-hustle to a passionate career path. But you need to know what the big brands are doing to get traction and replicate it for yourself.
In this SkillShare class we will be focused on getting you a perfectly optimized Instagram profile, effortless content strategy, and learn the simple techniques to get your brand out into the world.
Social media and Instagram evolve quickly, and there is no better time to start using these tools than now!
You'll learn powerful Instagram tips to:
• Avoid the 5 biggest beginner mistakes
• Create an attractive Instagram profile
• Craft the perfect bio
• Connect with new and targeted fans daily
• Boost your engagement
• Create an effortless content calendar
• Make Instagram work for you
• So much more
I am so excited for you to join me in this Instagram class, and start taking your hobby, side hustle or personal brand to the next level with these powerful mindsets, frameworks, and strategies on Instagram.
See you on the inside!
– Benj
Hands-on Class Project
Your class project on your Instagram journey is to share a screenshot of your Instagram profile with our community.
Step 1: Watch the SkillShare class and take action.
Step 2: Take a screenshot of your Instagram profile on your phone.
Step 3: Upload your screenshot here in the class project.
Step 4: Connect with and support others on the Instagram journey.
We are here to support you and learn alongside you as you grow your community on Instagram. I would really love to see your profile even if it isn't 100% completed or perfect yet, so please don't let that stop you from sharing where you are currently at.
Looking forward to seeing your Instagram profile and connecting further!
Covered Topics
• Entrepreneurship
• Marketing
• Business
• Social Media
• Growth Hacking
• Social Media Marketing
• Personal Branding
About Author
My Name is Benji.
I am a passionate creative and entrepreneur from Melbourne, Australia!
I love pinpointing the difference between what makes people successful and what makes people fail in all arenas of life and then share with you!
Apart from building and creating… I have 4 cats, I love working out, skating, playing basketball and reading.
Be sure to reach out to us if you want to connect!
Buy Long-term Premium Accounts To Support Me & Max Speed
RAPIDGATOR
rapidgator.net/file/9d5b5d7c6260dd57131944e862c19ad6/%5BFreeCoursesOnline.Me%5D_SkillShare_-_Instagram_Marketing_2021_Complete_Guide_to_Instagram_Growth_&_Engagement.part1.rar.html
rapidgator.net/file/00105a24e12d6c9b3377d01bb770fd03/%5BFreeCoursesOnline.Me%5D_SkillShare_-_Instagram_Marketing_2021_Complete_Guide_to_Instagram_Growth_&_Engagement.part2.rar.html
rapidgator.net/file/fad196709e9b4caa7f053ace68517fba/%5BFreeCoursesOnline.Me%5D_SkillShare_-_Instagram_Marketing_2021_Complete_Guide_to_Instagram_Growth_&_Engagement.part3.rar.html
rapidgator.net/file/83d0a4804745dd1d7d9dcb4a5a1397b7/%5BFreeCoursesOnline.Me%5D_SkillShare_-_Instagram_Marketing_2021_Complete_Guide_to_Instagram_Growth_&_Engagement.part4.rar.html
NITROFLARE
nitro.download/view/C7BA96D8F056FF2/_FreeCoursesOnline.Me__SkillShare_-_Instagram_Marketing_2021_Complete_Guide_to_Instagram_Growth_%26_Engagement.part1.rar
nitro.download/view/6F45788A94AFE37/_FreeCoursesOnline.Me__SkillShare_-_Instagram_Marketing_2021_Complete_Guide_to_Instagram_Growth_%26_Engagement.part2.rar
nitro.download/view/9D21171C2473DA6/_FreeCoursesOnline.Me__SkillShare_-_Instagram_Marketing_2021_Complete_Guide_to_Instagram_Growth_%26_Engagement.part3.rar
nitro.download/view/EF49E5D471E99E2/_FreeCoursesOnline.Me__SkillShare_-_Instagram_Marketing_2021_Complete_Guide_to_Instagram_Growth_%26_Engagement.part4.rar
If any links die or problem unrar, send request to goo.gl/aUHSZc