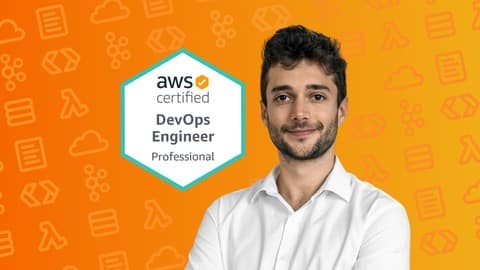 Udemy – AWS Certified DevOps Engineer Professional 2022 – Stephane Maarek
English | Size: 9.61 GB
Category: Tutorial
Welcome to the BEST and MOST UPDATED online resource to learn the skills needed to pass the challenging certification: AWS Certified DevOps Engineer Professional (DOP-C01).
Before taking this course, make sure that:
You hold at least an associate-level certification in AWS (AWS Certified Developer Associate is preferred)
You have experience using AWS at your work
This course is entirely hands-on to provide you with the experience needed to understand, analyze and solve the questions asked at the AWS Certified DevOps Engineer Professional exam. As such, I will not be covering the basics, and I will be going rather fast through concepts you should already know.
If you're ready to go on a challenging and rewarding journey, join me in this course. You will not be disappointed!
This course is different from the other ones you'll find on Udemy. Dare I say, better (but you'll judge!)
It covers in-depth all the new topics on the AWS Certified DevOps Engineer Professional DOP-C01 exam
It's packed with practical knowledge on how to use AWS inside and out as a DevOps
It teaches you how to prepare for the AWS Certified DevOps Engineer Professional exam AND how to prepare for the real world
It's a logical progression of topics, not a laundry list of random services
It's fast-paced and to the point
All slides available as downloadable PDF
I passed the exam with a score of 940/1000 so you are in good hands!
Instructor
My name is Stephane Maarek, and I'll be your instructor in this course. I teach about AWS certifications with my focus always on helping my students improve their professional proficiencies in AWS. I am also the author of some of the most highly-rated & best-selling courses on AWS Lambda, AWS CloudFormation & AWS EC2.
Throughout my career in designing and delivering these certifications and courses, I have already taught 1,000,000+ students and gotten 350,000+ reviews!
With AWS becoming much more than a buzzword out there, I've decided it's time for students to properly learn how to be an AWS DevOps Engineer Professional. So, let's kick start the course! You are in good hands!
This course also comes with:
Lifetime access to all future updates
A responsive instructor in the Q&A Section
Udemy Certificate of Completion Ready for Download
A 30 Day "No Questions Asked" Money Back Guarantee!
Join me in this course if you want to pass the AWS Certified DevOps Engineer Professional Certification (DOP-CO1) Exam and master the AWS platform!
Who this course is for:
Experienced AWS cloud engineers looking to pass the AWS Certified DevOps Engineer Professional certification (DOP-C01)
Experienced AWS cloud engineers looking to learn advanced automations and features on the AWS cloud
Buy Long-term Premium Accounts To Support Me & Max Speed
RAPIDGATOR
rapidgator.net/file/ba2b300f442714a9e4016a8e32354119/Udemy_-_AWS_Certified_DevOps_Engineer_Professional_2022_-_Stephane_Maarek.part01.rar.html
rapidgator.net/file/1844df1af836a08f354e76b7e293c0b4/Udemy_-_AWS_Certified_DevOps_Engineer_Professional_2022_-_Stephane_Maarek.part02.rar.html
rapidgator.net/file/5161e011f5f7e07c16a1cc60ff30a44e/Udemy_-_AWS_Certified_DevOps_Engineer_Professional_2022_-_Stephane_Maarek.part03.rar.html
rapidgator.net/file/4d4ed9afd736ad5c4ad66942bb7484d5/Udemy_-_AWS_Certified_DevOps_Engineer_Professional_2022_-_Stephane_Maarek.part04.rar.html
rapidgator.net/file/2645f3a4639056426e6f362c35d8655a/Udemy_-_AWS_Certified_DevOps_Engineer_Professional_2022_-_Stephane_Maarek.part05.rar.html
rapidgator.net/file/10732512ccb34a17513dade8cf9f05d5/Udemy_-_AWS_Certified_DevOps_Engineer_Professional_2022_-_Stephane_Maarek.part06.rar.html
rapidgator.net/file/6cfeb2cd24a87a34504e0240b4c87255/Udemy_-_AWS_Certified_DevOps_Engineer_Professional_2022_-_Stephane_Maarek.part07.rar.html
rapidgator.net/file/4704e8613ca2ea8abe420beb0e3e5b8e/Udemy_-_AWS_Certified_DevOps_Engineer_Professional_2022_-_Stephane_Maarek.part08.rar.html
rapidgator.net/file/3493681831aac813f3ff0a3d3b08680f/Udemy_-_AWS_Certified_DevOps_Engineer_Professional_2022_-_Stephane_Maarek.part09.rar.html
rapidgator.net/file/f714815ddf86c71852f06b4d1a03f14c/Udemy_-_AWS_Certified_DevOps_Engineer_Professional_2022_-_Stephane_Maarek.part10.rar.html
rapidgator.net/file/17cf8b326e82dbb430c0bfdafb747588/Udemy_-_AWS_Certified_DevOps_Engineer_Professional_2022_-_Stephane_Maarek.part11.rar.html
rapidgator.net/file/2df8dc927629366ef31fdbd794edf32e/Udemy_-_AWS_Certified_DevOps_Engineer_Professional_2022_-_Stephane_Maarek.part12.rar.html
rapidgator.net/file/68cb8e80be360bc5333acc1737bda196/Udemy_-_AWS_Certified_DevOps_Engineer_Professional_2022_-_Stephane_Maarek.part13.rar.html
rapidgator.net/file/6767db436ed0ffff66e5fc1d6b16bdab/Udemy_-_AWS_Certified_DevOps_Engineer_Professional_2022_-_Stephane_Maarek.part14.rar.html
rapidgator.net/file/791481b2858d3444174eefb573e68f3f/Udemy_-_AWS_Certified_DevOps_Engineer_Professional_2022_-_Stephane_Maarek.part15.rar.html
NITROFLARE
nitro.download/view/333A3F546BE79AB/Udemy_-_AWS_Certified_DevOps_Engineer_Professional_2022_-_Stephane_Maarek.part01.rar
nitro.download/view/E98C6B463C90F70/Udemy_-_AWS_Certified_DevOps_Engineer_Professional_2022_-_Stephane_Maarek.part02.rar
nitro.download/view/DF3B35B0C99DFAC/Udemy_-_AWS_Certified_DevOps_Engineer_Professional_2022_-_Stephane_Maarek.part03.rar
nitro.download/view/3571F850CC8E527/Udemy_-_AWS_Certified_DevOps_Engineer_Professional_2022_-_Stephane_Maarek.part04.rar
nitro.download/view/90B795D4D0DA9F1/Udemy_-_AWS_Certified_DevOps_Engineer_Professional_2022_-_Stephane_Maarek.part05.rar
nitro.download/view/04D9BFAD7C603F9/Udemy_-_AWS_Certified_DevOps_Engineer_Professional_2022_-_Stephane_Maarek.part06.rar
nitro.download/view/9739D62339D2547/Udemy_-_AWS_Certified_DevOps_Engineer_Professional_2022_-_Stephane_Maarek.part07.rar
nitro.download/view/3D08758C6C27B8A/Udemy_-_AWS_Certified_DevOps_Engineer_Professional_2022_-_Stephane_Maarek.part08.rar
nitro.download/view/864E07E1D2C3B02/Udemy_-_AWS_Certified_DevOps_Engineer_Professional_2022_-_Stephane_Maarek.part09.rar
nitro.download/view/4BD97904CEC2017/Udemy_-_AWS_Certified_DevOps_Engineer_Professional_2022_-_Stephane_Maarek.part10.rar
nitro.download/view/A8C35FAC07EB60A/Udemy_-_AWS_Certified_DevOps_Engineer_Professional_2022_-_Stephane_Maarek.part11.rar
nitro.download/view/59FE2C8AF26A971/Udemy_-_AWS_Certified_DevOps_Engineer_Professional_2022_-_Stephane_Maarek.part12.rar
nitro.download/view/D715F73A9016FEA/Udemy_-_AWS_Certified_DevOps_Engineer_Professional_2022_-_Stephane_Maarek.part13.rar
nitro.download/view/2411E51DFC39535/Udemy_-_AWS_Certified_DevOps_Engineer_Professional_2022_-_Stephane_Maarek.part14.rar
nitro.download/view/34FCFBD38C832EB/Udemy_-_AWS_Certified_DevOps_Engineer_Professional_2022_-_Stephane_Maarek.part15.rar
If any links die or problem unrar, send request to goo.gl/aUHSZc